European Youth Event: 7,500 opinions on Europe's future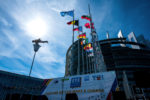 Want to know Europe's future? Ask the people who will shape it! Last weekend more than 7,500 young Europeans attended the European Youth Event (EYE) at the Parliament in Strasbourg to discuss the continent's most pressing issues with MEPs and leading figures from civil society and the business world. Thousands of people also joined the discussions online: the hashtags #EYE2016 and #EYEtv were used nearly 26,000 times during the two-day event. Relive the experience with our slideshow and video.
EYE 2016 kicked off on Friday morning 20 May at a ceremony presided over by EP Vice-Presidents Mairead McGuinness, Sylvie Guillaume, Rainer Wieland and Ulrike Lunacek. Speaking at the ceremony, Guillaume said: "Your ideas should serve as an inspiration for the members of the Parliament. We have to listen to what young people have to say about the future."
The two-day event included discussions on issues ranging from climate change and youth unemployment to religious extremism and sustainable development. The participants aged 16 to 30, representing 39 countries, were also able to experience Europe's rich cultural diversity at the many concerts and artistic performances.
Participants also enjoyed the opportunity to take part. Mirja Gabbert (21), a medicine student from Heidelberg, Germany, said: "I loved hearing all the different languages and being able to meet people from other countries. It's very important that our generation unites to work on Europe and the many problems we are facing."
source: europarl.europa.eu
---