Bulgaria's EU Council presidency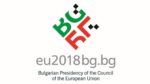 Bulgarian MEPs have high hopes for their country's six-month presidency of the EU Council, including improving links with the Western Balkans.
Sofia has declared it will work to improve Europe's competitiveness and seek consensus among member states on issues such as security and migration and strive to promote cohesion and solidarity in discussions about the EU's next long-term budget and the EU's farming policy. The country also aims to improve the prospects for European integration for the Western Balkan countries.
source: europarl.europa.eu
---