Justin Trudeau: "Trade needs to work for people"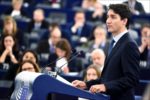 "Ceta is not only about commerce, imports and exports, about profits. It aims to improve people's lives," said Canadian Prime Minister Justin Trudeau, while addressing MEPs in Strasbourg on Thursday 16 February, one day after the the European Parliament approved the EU-Canada trade agreement.
Welcoming Trudeau, Parliament President Antonio Tajani said:  "Canada and Europe share common languages, a history of friendship and a common vision for the future. We share the same vision of an open world and of the need to work together to give concrete answers to the problems of our citizens."
Trudeau's speech in the Parliament, the first one ever by a Canadian Prime Minster, took place one day after MEPs backed Ceta.
"Trade needs to work for people," said Trudeau, addressing concerns that international trade agreements would mainly benefit multinationals and could affect people´s jobs. "We live in a time when many people are worried that the current system only benefits society's luckiest few. And their concern is valid," he said. "This anxiety towards the economy and trade can be addressed only if we ensure that trade is inclusive so that everyone benefits. And Ceta delivers just that."
source: europarl.europa.eu
---