In Parliament this week: access to medicine, energy, Arctic, US travel ban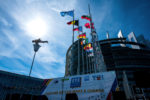 Securing green energy and the US travel ban will be dealt with during this week's plenary session. Parliamentary committees also look at how to improve access to medicine and how to better protect the Arctic. In addition MEPs meet their national counterparts to discuss how to stimulate the economy and ensure everyone will benefit from it.
Plenary
On Wednesday MEPs debate the US travel ban for citizens from Iran, Iraq, Libya, Somalia, Sudan, Syria and Yemen for 90 days.
On the same day MEPs debate with commissioner Maroš Šefčovič, the next steps to complete the European Energy Union, which aims to secure affordable climate-friendly energy in our continent.
MEPs vote on Thursday on whether to ask the European Commission to produce a proposal to create common minimum standards for adoption and to make it easier for EU countries to recognise decisions on adoptions made by other member sates.
Georgian citizens could soon be able to travel to the EU without a visa following an informal deal struck by Parliament and Council negotiators last December. MEPs are this week asked to formally approve it.  The debate about the visa exemption for Georgians takes place on Thursday, followed by a vote the same day. The visa waivers apply only to the Schengen area.
source: europarl.europa.eu
---