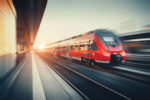 Public contracts to supply domestic passenger rail services in EU countries will normally have to be put out to tender under new rules backed by Parliament on Wednesday. These rules also aim to boost investment and the development of new commercial services.
Under the new rules, rail companies will be able to offer their services in EU domestic passenger rail markets in two ways.
First, in cases where national authorities award public service contracts to provide passenger rail services, bidding for public service contracts open to all EU rail operators should gradually become the standard procedure for selecting service providers.
source: europarl.europa.eu
photo: AP Images/European Union-EP
---