Israeli President calls on MEPs to help build trust in the Middle East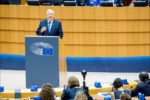 "The elected Israeli leadership has been and is in support of two states for two peoples solution", President of the State of Israel Reuven Rivlin, told MEPs on Wednesday. However "at this time, a permanent agreement for peace between us and Palestinians cannot be achieved", he added, calling on EU to help build trust between the parties.
President Rivlin stressed that the political and regional circumstances which would enable Israelis and Palestinians to reach a permanent agreement "are failing to materialise." Among other things, a total lack of trust between the leaderships and the people is to blame, he explained.
"Help us step forward" in building trust, investing in joint Israeli-Palestinian ventures, developing the Palestinian economy, and educating people, he asked MEPs, acknowledging the European Parliament's efforts to bring the two sides together by welcoming the Israeli and Palestinian presidents to the same plenary session.
 European Parliament President Martin Schulz noted that the Middle East region has seen wars and acts of terrorism, and that ending violence is the first step towards stability. He pointed out that the European Parliament voted last year in favour of a two-state solution based on the 1967 borders, with Jerusalem as the capital of both states.
source: europarl.europa.eu
---